Vendetta. - 1 photo. ( Royal Australian Navy )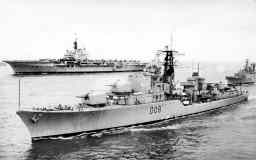 Courtesy of Mr. Terry "Stacks" Heaps, showing HMS Centaur in rear.
Thanks also to Mr. Gordon Scott for letting me know this was a R.A.N. Daring class ship.
"Click" on Image to enlarge.
Return to "Index 7". - Destroyers, Daring Class.