Plymouth - 16 photo's. + "Youtube" video clip.
Time has now moved on and HMS Plymouth is no longer with us. In what can only be described as possibly an "Underhand" move she has been taken under tow to
a "Breakers Yard" in Turkey and is now being dismantled. I can only offer my heartfelt thanks to the members of "HMS Plymouth Association" for their efforts to try and save her !


"Click" on Images to enlarge.

"Click" on Images to enlarge.
"Click" on Images to enlarge.
The following 6 photo's below are by courtesy of Mr. Ron Jeffreys.
He served on her between 1968 and 1972, so I wonder if he's in the video below his photo's?.
"Click" on Images to enlarge.
"Click" on Images to enlarge.
It is now a sad fact that the combined efforts of our "Brussells controlled" coalition leader, "Call Me Dave",
along with the inept "Labour" Council we have managed to "saddle" ourselves with, down here in Plymouth,
have now ensured that this last remaining example of a "Cold War Type 12 Frigate" and, incidentally,
the last surviving RN warship from the "Falklands War" , has ended up, after much protest, being demolished in a "Turkish Ship-breakers yard".
It was stated by our "Council" that there is no room for a berth for her down here !!, surely a "strange comment" to have made
with the slipway upon which she was built, along with most of the "South Yard" in the largest Naval base in Western Europe standing mostly empty and idle.
Plymouth Council has long been "renowned" for showing a complete lack of interest, and an ongoing "antipathy",
towards this city's long and colourful past, or its connection with anything to do with the military.
This is but yet another disgraceful example.
Here, in photo 16 below, is what may well be a last view of her as she sits in solitary isolation awaiting her fate on a lonely wharf in Birkenhead.
Many I know will mourn her passing but, so it seems, "Plymouth City Council" will not be amongst them,
even though they boast of being the so called "Ocean City" !!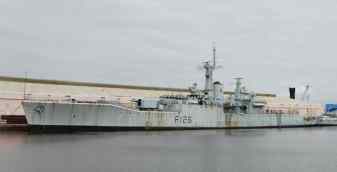 "Click" on Images to enlarge.
Return to "Index 13a" - Frigates, type 12's.